Photographer's Night
© Daniel Etter

© Gerd Ludwig

© Dominic Nahr

© Christoph Bangert
Thu 18 Sept 20.15h (entrance 19.45h) MAKK
Artist presentations and discussion 
This year's theme for what is now already the 5th "Photographer's Night" is "Reportage photography and modern photojournalism". The motive behind this chosen theme was the fatal attack on photographer Anja Niedringhaus. Among other questions raised by this are: What can reportage photography/ modern photojournalism still achieve today? Is it morally justifiable to work in crisis areas as a photographer and what form of presentation can succeed in formulating these sensitive image contents appropriately? Manfred Linke, the initiator of the "Photographer's Night", has been able to gain high-calibre guests for this evening this year once again. The internationally deployed photographers Christoph Bangert, Daniel Etter, Dominic Nahr and Gerd Ludwig will introduce themselves and their works and attempt to find answers to these and other questions. Dr. Jörg Biesler will be the evening's guide.
Fee (19€ + AS) on photographersnight.de and 19h box office (24,50 €).
Contact: Manfred Linke (concept and organisation)/UTOPIA Images
Dominic Nahr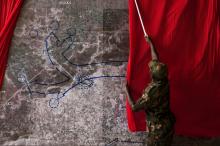 Dominic Nahr, who is based in Nairobi (Kenya), was born in 1983 in Switzerland, grew up in Hong Kong and studied until 2008 at Ryerson University in Toronto.For his works in Sudan, Somalia, Egypt and in the Democratic Republic of Congo he has...